---
Bike & Hike Sets Income Record 19 Years Straight!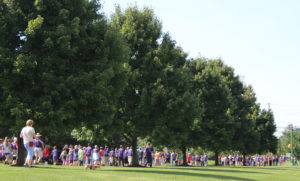 The 21st annual COBYS Bike & Hike was a huge success – tying the previous attendance record and raising the bar of giving for the 19th consecutive year, setting a pledge and donation record of more than $136,000 – topping last year's record by more than $3,000!
Held Sunday, September 10, at the Lititz Church of the Brethren, the Bike & Hike drew 601 walkers and riders, tying the previous attendance high established in 2008. Attendance was up 18 percent from last year's 509. All told the event attracted 166 motorcyclists on 104 cycles for the 60-mile ride in eastern Lancaster County, 129 bicyclists for the 10- and 25-mile rides, and a whopping 306 walkers—nearly 100 more than last year—for the three-mile walk through Lititz.
Giving at last year's Bike & Hike event was $133,556.
"We were thrilled with the fantastic turnout and another year of tremendous giving," said Director of Development Don Fitzkee. "It felt really good to have such a strong show of support."
Of course, picture-perfect weather certainly didn't hurt. In addition to walkers and riders, a number of others came out to enjoy the afternoon and check out the Silent Auction that ran throughout the afternoon, generating income of $4,360. The top selling item was a meal for eight at the soon-to-be-open Lampeter Café, donated by COBYS board member and co-owner Lisa Reinhart. The meal sold for $525; to avoid a fight between the final bidders, it was sold a second time at the same price.
Top fundraisers were Floy Fitzkee, $7,500; Mari Cunningham, $7,080; Londa Brandt, $6,450; and Lucy de Perrot, $4,015. Nineteen other participants raised at least $1,000. More than 100 businesses and others donated cash, prizes, auction items, and supplies (see below).
Six youth groups participated, raising more than $20,000. Little Swatara Church of the Brethren (COB) raised half of that at $10,200. Four others earned gym and pizza nights by raising $1,500 or more. They were: Midway Church, $3,080; West Green Tree ($2,637), Mountville ($2,040), and Mohrsville ($1,512.75) COBs. Chiques COB junior high added $950.
More than 50 volunteers staffed the event, including board members, staff, friends, and six Linden Hall students, who served as part of the United Way Day of Caring in Lancaster. A photo gallery from the Bike & Hike is available on our Facebook page.
Special Thanks to These Business Donors
Event Sponsor
Speedwell Construction Inc.
Gold Sponsors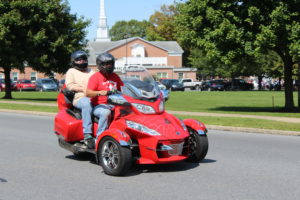 The Hess Agency
Scenic Ridge Company
Silver Sponsors
B.R. Kreider Driveways
Bomberger's
Farmer Boy Ag
Fillmore Container
Hawthorne Electric
The Wenger Foundation
Bronze Sponsors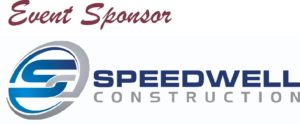 BCF Group
Cassel Signs
Conversations Inc.
Covenant CPA, LLC
Eagle River Homes
Fulton Bank
The Furniture Doctor, Inc.
Garcia Garman & Shea, PC
Gibbel Kraybill & Hess LLP


Longenecker's Hatchery
Oakmont Enterprises
Red Rose Pediatric Associates
Rohrer's Incorporated
Sam S. Smucker & Sons, Inc.
Spence Funeral & Cremation Services


Staffing Service USA
TCW Computer Systems, Inc.
Utility Keystone Trailer Sales
Young & Young Attorneys at Law
Supporters
Ag Industrial Inc.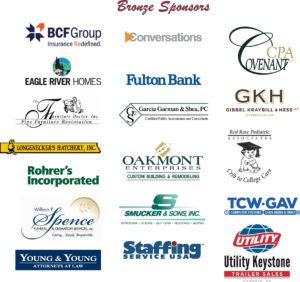 Balsbaugh Insurance Agency
The Country Store
Ebersole Brothers Construction, Inc.
Engle Printing & Publishing
Four Seasons Produce
Garden Spot Mechanical, Inc.
Hess Tent Rental
Homestead Nutrition, Inc.
Keller Brothers Auto Company
Longenecker's Hardware
Penway Construction, Inc.
Progressive Pressure Systems, Inc.
S & A Paint and Repair
Steffy Printing
Thomas H. Erb & Son Inc.
Tom B. Morrissey TV & Appliance
Triple-M-Farms
True Edge Performance Solutions, LLC
Wenger & Company PC
White's Harley Davidson Sales, Inc.
WJTL FM 90.3
Auction Donors
Blue Ridge Communications
Breakaway Snacks
Castle Roller Skating, Inc.
Catherine Warfel
Cherry Crest Adventure Farm
Cocalico Automotive, Inc.
Country Barn, LLC
Don & Carolyn Fitzkee
DoubleTree Resort by Hilton Lancaster
Dutch Apple Dinner Theatre
East Cocalico COB
Esbenshade's Garden Centers
Fillmore Container
Fox Meadows Creamery & Country Market
Foxchase Golf Club & Banquet Facility
Go N Bananas
The Goble Group
Good's Store
Henry Faus
The Hershey Story
J.B. Zimmerman
James & Pamela Ament
James Wenger
Kramer Portraits
Lampeter Café
Love Give Live
Lynne Keller
Mark & Mari Cunningham
McElroy Pharmacy
Miller's Christmas Tree Farm
ModernEYES Optical
Outback Toys
Reading Fightin' Phils
Scott & Sandy Coates
Shuey's Pretzels
Smith's Candies
Spill Café
Tangles Salon, LLC
Umberger's of Fontana
Wenger Foundation, Inc.
Refreshments
Crystal Springs Water Company
Hess Brothers Fruit Company
John Herr's Village Market
Keystone Pretzels
Oregon Dairy
Smith's Candies
Turkey Hill Dairy, Inc.
Door Prizes
Blue Marsh Market
Blue Ridge Communications
Choo Choo Barn
Cocalico Automotive, Inc.
Country Table Restaurant
Esbenshade's Garden Centers
Furman Home for Funerals
Goodville Mutual Casualty Company
Halo Branded Solutions – Rick Bridgman
Kauffman's Bar-B-Q Restaurant
Kreiser's Garage, LLC
Lampeter Café
Landis Valley Associates
Love Give Live
Mister Car Wash
Reist Popcorn Company
Shuey's Pretzels
Smith's Candies
Stauffer's of Kissel Hill
Village Greens Golf, Inc.
Zig's Bakery & Café