---
23rd Annual Wenger Foundation Praise Dinner-April 10
Bob Kettering will speak and gospel artists The Talleys will sing at the 23nd annual Wenger Foundation Praise Dinner on Tuesday, April 10, at 6:00 p.m., at the Lebanon Expo Center. The event will benefit COBYS Family Services and three other ministries.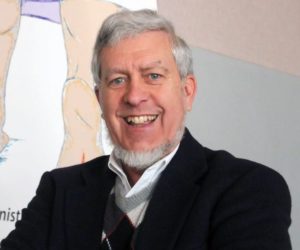 An ordained minister in the Church of the Brethren, Bob Kettering is an enthusiastic preacher, musician, and church leader. He retired as senior pastor of the Lititz Church of the Brethren in 2015 and currently serves as interim pastor at Lancaster Church of the Brethren.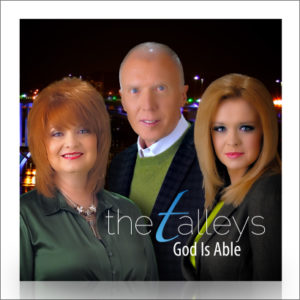 The Talleys are a southern gospel trio composed of Roger and wife Debra Talley, with their daughter Lauren as the lead and soprano singer. They have performed their "message music" together all over the world for more than 20 years. They have enjoyed 11 number one songs, and have received numerous Singing News Fan Awards and Dove Award nominations.
The Praise Dinner will include a buffet meal catered by Country Home Catering. Other ministries benefiting from the event are Evangelical Seminary, Friendship Community, and On Fire Youth Ministries.
The cost to attend is $125 per person or $1,250 per table of 10 guests. All donations support the designated ministries. Underwriting the event's expenses are: Ambassador Advisors, Gene Wenger's Meats & Fine Foods, Goods Disposal Service, Jim & JoAnne Speers, Kline, Keider, Good Auctioneers, North Group Consultants, Roger & Carolyn North, Sight & Sound Ministries, Tom B. Morrissey TV & Appliance, Carl & Margaret Wenger, Wengers of Myerstown, and other anonymous contributors.
The Wenger Foundation, Inc., was established in 1996 as the charitable giving arm of the Wenger Family of Companies. Since then, the Foundation has awarded more than $2.8 million to a variety of Christian and community ministries.
Last year's Praise Dinner attracted about 750 people and raised more than $114,000, including $27,061 for COBYS. Since 1999 COBYS has received more than $383,000 through the Praise Dinner.
For more information about the event, please contact the Wenger Foundation at 717-866-2130 or rwalmer@wengers.com.
---
COBYS Adds New Building
On Friday, January 12, 2018, COBYS Family Services purchased the former Simon Lever, LLC building, located at 444 Murry Hill Circle, just off of Oregon Pike in Lancaster for $1,136,100. Acquisition of the 13,600-square foot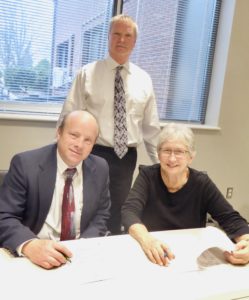 building is part of COBYS's expansion plan to alleviate crowded offices and gain space for additional staff. Adoption, foster care, and family life education services will be housed in the new location, beginning sometime this spring. All other buildings will remain open, including the main office in the mill at 1417 Oregon Road, Leola.
As part of Martin Luther King, Jr. Day, 59 community volunteers gave more than 220 hours of service sprucing up the new building—removing old carpet and light fixtures, taking trash to the dumpster, prepping rooms for painting, and priming walls. Additional volunteer days are scheduled for the next three Saturdays, beginning at 8 a.m., with painting now the primary task. If you can help, please contact Don Fitzkee at don@cobys.org or
717-656-6580.
Photo: Settlement papers were signed (above) by COBYS Board Chairman Fred Keller and Board Secretary Suzanne Schaudel, with Executive Director Mark Cunningham.