Waiting Children
The Statewide Adoption and Permanency Network (SWAN) reports that approximately 2,500 Pennsylvania children are waiting for adoption. While some of these children will be adopted by their current foster parents, many others are legally free for adoption but do not have an identified permanent home. These children often are called "waiting children." COBYS adoption staff seek homes for such children through a service called Child Specific Recruitment. From time to time we feature children on this page who need an adoptive home.
---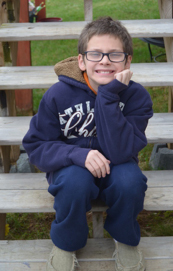 Jay
Jay is someone who will keep you on your toes! He's a very active and talkative young man who, like most boys his age, loves video games, kickball, and football. He has an Individual Education Plan in school to help him with math and reading. He struggles with completing homework and often needs some help. He gets along with his peers and the other children in his current foster home. He's working hard at expressing himself in healthy ways and needs a family who will be committed to looking beyond his pain and experiences in life to see the amazing resilient child that he is. He is at his best with a family who can provide a highly structured environment for him and the nurturing he needs.
He has visitation with his extended birth family and very much looks forward to seeing them. It is suggested the family who provides permanency for Jay be open to continuing visitation between him and his extended birth family.
For more information on Jay, please contact Melanie Rankin at melanie@coby.org.