On Friday, January 12, 2018, COBYS Family Services purchased the former Simon Lever, LLC building, located at 444 Murry Hill Circle, just off of Oregon Pike in Lancaster for $1,136,100. Acquisition of the 13,600-square foot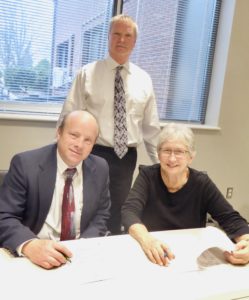 building is part of COBYS's expansion plan to alleviate crowded offices and gain space for additional staff. Adoption, foster care, and family life education services will be housed in the new location, beginning sometime this spring. All other buildings will remain open, including the main office in the mill at 1417 Oregon Road, Leola.
As part of Martin Luther King, Jr. Day, 59 community volunteers gave more than 220 hours of service sprucing up the new building—removing old carpet and light fixtures, taking trash to the dumpster, prepping rooms for painting, and priming walls. Additional volunteer days are scheduled for the next three Saturdays, beginning at 8 a.m., with painting now the primary task. If you can help, please contact Don Fitzkee at don@cobys.org or
717-656-6580.
Photo: Settlement papers were signed (above) by COBYS Board Chairman Fred Keller and Board Secretary Suzanne Schaudel, with Executive Director Mark Cunningham.